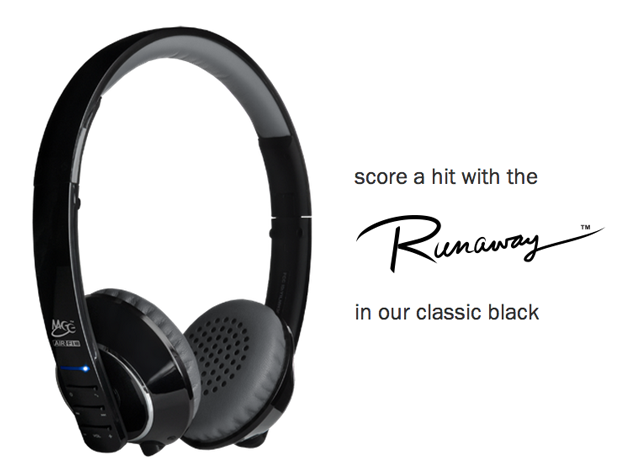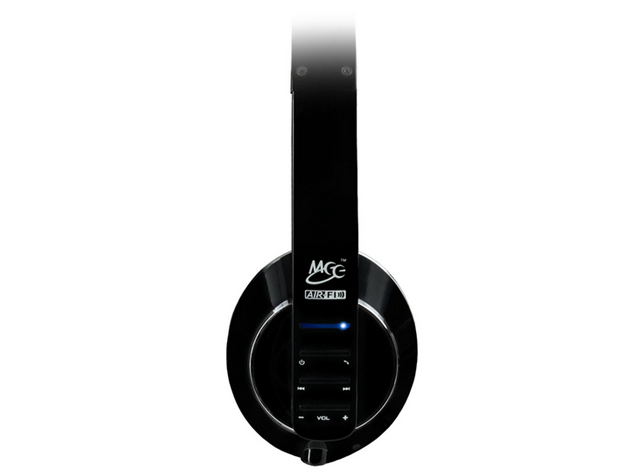 The Air-Fi Runaway Headphone Collection
by MEElectronics
A Wireless Sound System For your Soul (Black)
Description
Please note: this promotion is only available to continental USA customers only.
ULTRA-SOFT PADDING FOR ALL DAY COMFORT
Please note: this prom is valid for the black headphones; links to different colors below.
We often underestimate the experience of having wireless headphones, but once you try the Air-Fi Runaway Bluetooth headphones, you'll understand the hype. With the extra soft padding you won't want to take them off and the delightful listening experience + long battery life will further justify snagging these for 50% off.
WHY WE LOVE IT
They're sleek, comfortable, wireless, bluetooth compatible, they sound great, and they're 50% off (and they include SHIPPING to continental USA customers only). In our eyes this is what you call a win-win-win-win-win-win type situation.
THE PROOF
"The MEElectronics Air-Fi AF32 on-ear stereo Bluetooth headphones are comfortable and relatively affordable, offering good sound quality for Bluetooth standards. (Very Good - 3.5 stars)" -
CNET
"The Air-Fi AF32s are a great deal at the sub-$100 price range, especially given that you're dealing with Bluetooth and not some clunky receiver device [...] if you've been looking to cut the wire without spending a fortune, these are a nice solution, especially with the built-in mic feature." -
Wired Magazine
FREE SHIPPING TO CONTINENTAL USA CUSTOMERS
The time has come to have full control over your music and now thanks to MEElectronics you can do just that. This purchase will include the cost of shipping to continental USA customers ONLY.
BLACK NOT YOUR COLOR - Different Colors Available
Click HERE for the BLACK/RED ones.
Click HERE for the BLUE ones.
Click HERE for the WHITE ones.
THE "BREAKDOWN"
Please note: the color shown in the graphic above isn't the color for sale.
TOP FEATURES
Stereo Bluetooth for music playback and use as a headset with the built-in mic
Conveniently located phone and music controls
Ultra-soft ear pads and adjustable headband for extended wearing comfort
Folds for convenient storage and comes with a travel bag
Rich and dynamic sound with enhanced deep bass and great clarity from the acoustically advanced, high efficiency 40mm driver
Convenient all-in-one design for simplicity and functionality
3.5mm audio jack for wired use
Digital volume control
Talk handsfree on your phone
Voice dialing (if supported by your phone)
Compatible with: iPhone, iPod Touch, iPad, Android phones, Android tablets, Windows phones, Macs, Bluetooth dongles, and other Bluetooth enabled devices
BLUETOOTH SPECS
Bluetooth Version: Bluetooth Specification V2.1 + EDR
Profile: Hands-free Profile (HFP) 1.5, Headset Profile (HSP) 1.1, Advanced Audio Distribution Profile (A2DP) 1.2, and Audio
Video Remote Control Profile (AVRCP) 1.0
Operating Range: 10 M
Standby time:at least 100 hours
Talk time: <10 hours
Music playing time: <12 hours
Charging time: 4 hours
Charging cable: 3.5mm to USB
HEADPHONE SPECS
Driver: 40 mm high performance drivers with neodymium magnets
Frequency Response: 18Hz – 20KHz
Sensitivity: 106 dB (1mW @ 1KHz)
Impedance: 32 ohms
Length of cable for wired use: 48 inches
Weight: 115g
Warranty: 1 year
Ship Weight: 0.5 lb
Terms
No refunds
Available to continental USA customers ONLY
Valid for one (1) set of the Black Air-Fi bluetooth wireless headphones
Upon purchase you MUST complete the redemption instructions to have your order shipped
Purchase price includes the cost of SHIPPING